The Gentleman's Guide to Vice and Virtue by Mackenzi Lee
Katherine Tegen Books, 2017, 528 pages
Young Adult Historical Fantasy
Sent off on a journey across Europe, young bachelor Monty with his friend Percy and sister Felicity (along with an escort for the three) begin an adventure they could never begin to guess in The Gentleman's Guide to Vice and Virtue by Mackenzi Lee. Hailed as groundbreaking for its inclusion of a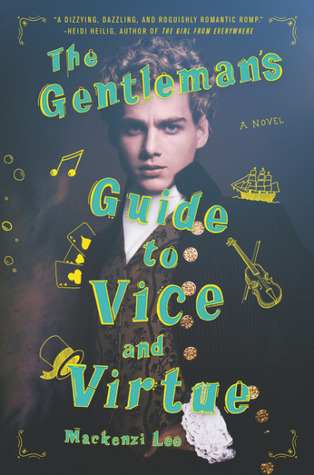 bisexual male main character and a love interest of color (and a character with a disability), this epic young adult novel touches on many of the successful genres from over the past several years, tied together in a period piece that evokes images of lace and fine brandy.
As an often-lighthearted epic of sorts, The Gentleman's Guide to Vice and Virtue is often fun and rompy. Monty and his companions encounter all sorts of characters as they make their way across Europe and conjure up their own trouble through theft and daring escapes. But each adventure leads to another, leaving the novel feeling a bit long, ultimately, especially as Lee dives into more serious topics such as slavery and homophobia. While both these (and many other challenging topics that are present) are fine and worthy things for literature, their combination with the otherwise explorative and dashing excitement never seems to fit quite right. Instead, these social justice issues come off as heavy-handed and included for the sake of being inclusive. Though certainly intersectionality is important, the handling of it here often makes the plot drag and doesn't serve the novel well.
Though both Monty and Percy receive a fair bit of development (as do other more secondary and tertiary characters), Monty's sister Felicity frequently feels like a sort of trope. I've since heard that a sequel will follow and develop Felicity further, so I still have hope there, but I was overall disappointed given the attention to other issues in the novel. Felicity's simplistic stereotype, while perhaps useful for plot purposes, did nothing to improve the cast of characters. Meanwhile, Monty is decidedly unlikable, which was an interesting strategy for this particular novel. Though his selfishness and other undesirable traits are likely rooted in the poor treatment his father passes off to him via  homophobic reasoning, his unlikability and its roots do not make him terribly interesting. Unlikable is always fine for a character if he or she can be made interesting and worth following. The only way to find any sympathy for Monty, aside from how his father treats him, is through Monty's feelings for Percy. As neither of these things are aspects of his personality and life that he has much control over, it's difficult to find an entry point to truly cheer for Monty and his success.
Lee has done an incredible amount of research for the finer details in the novel, including various physical artifacts and vocabulary. It is this work that makes the book interesting and, perhaps, worth the time if you're up for such a tome. With an apparent background in history, Lee makes an impressive amount of work seem easy and seamless.
While The Gentleman's Guide to Vice and Virtue is, at times, fun and engaging, it was overall too long for my tastes and not up to the hype. Though diversity and inclusion are crucial to modern literature, it was ultimately overbearing here, feeling more like a contest to fit in as much diversity as possible without conscious thought to it. If you enjoy period pieces and don't mind a bit of slogging through it, you might enjoy The Gentleman's Guide, but don't be afraid to put it down if it doesn't strike you — you won't miss anything more.
❤❤❤ out of ❤❤❤❤❤