When Dimple Met Rishi by Sandhya Menon
Simon Pulse, 2017, 384 pages
YA Fiction
In When Dimple Met Rishi by Sandhya Menon, readers are introduced to gutsy Dimple and amorous Rishi. The summer before she's to go to college, Dimple packs her bags for a computer coding camp where she expects to work hard to earn the prize of working with her idol and developing an app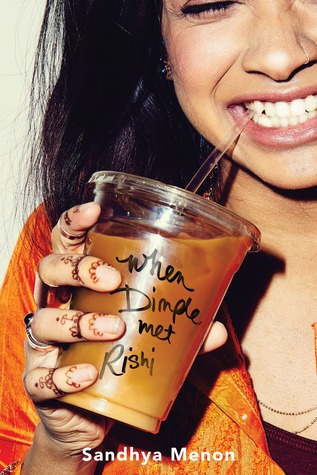 which will help her father and thousands of others. What she doesn't expect is to meet her future husband, Rishi. Enamored by Dimple and her drive, Rishi is hardly deterred by her naturally horrified response to the rude realization that her and Rishi's parents have conspired to put the two teens together. When Dimple and Rishi are paired together for their coding project, Dimple is hesitant at best. But perhaps Rishi has more to offer than what Dimple wants to believe.
Young Adult fiction publishers seem to finally be getting the message that we need more diverse books. This is only the very beginning, but with a publication date that quickly followed the final installment of To All the Boys I've Loved Before by Jenny Han, When Dimple Met Rishi came at the perfect time. The buzz around the novel is well-deserved. Because the novel is written by a woman who can racially and ethnically identify with her characters, stereotypes are nonexistent or, in the cases where they do appear, are explained to inform the reader and flesh out the stereotype that is actually a cultural feature or, an unconnected individual quirk.
Not to continue comparing Menon to Han, but another fantastic similarity between the two is the novels' abilities to take a fairly slow, everyday plot without outrageous dips, dives, and heights and maintain a high level of interest in readers. Characters in the novel experience everyday problems with loved ones and friends, many of which readers might recognize from their own lives. However, these conflicts are rarely yawn-inducing. Instead, Menon props up the novel with characters who are well-developed and emotive. With such a high level of development, managing chemistry between characters might seem like a stiff challenge, but Menon proves her skill again in helping readers become invested in Dimple and Rishi's end with the considerable gravitation between the two characters.
Menon's setting of a pre-college camp for computer programmers is also highly interesting, and a bold thing to actually show a young woman entering. For all the talk we have around girls in computer sciences, it seems rare to see such a person reflected in fiction and even rarer to see it done well and realistically. Dimple meets plenty of detractors when it comes to her love of coding, but perhaps what really sets this environment apart from similar locations is that Dimple's coding camp is full of all kinds. While some of Menon's secondary and tertiary characters become caricaturistic, the presence of those characters at all (such as the stereotypical Mean Girls) assist in creating realism.
Some reviewers had problems with examples of Dimple's physical abuse of Rishi. I'm not one to believe that characters must be nice or likable to be interesting or worth reading about, but the abuse, particularly as something that was never resolved as a character trait, felt out of place in When Dimple Met Rishi. These instances might have informed readers of Dimple's character, but given that she never seems to outgrow the behavior, its existence in the novel is troubling.
Finally, When Dimple Met Rishi did run a little long for my tastes. A particular beat of the romance plot toward the end might have been left off for a read that felt a little snappier, which likely would have suited the experience better. However, When Dimple Met Rishi is, overall, almost as good as the hype and certainly worth the time to read. Even aside from being an important novel due to its status as a "diverse" novel (scare quotes because we shouldn't need novels featuring non-white characters as direly as we do, and yet here we are), When Dimple Met Rishi is worth it simply for the pleasure.
❤❤❤💔 out of ❤❤❤❤❤