The Outsiders by S. E. Hinton
Viking Press, 1967, 192 pages
Young Adult Fiction
As one of the local greasers, Ponyboy Curtis finds trouble with the privileged Socs often enough. After befriending a soc name Cherry Valance, things come to a head. Cherry's group isn't so keen on Ponyboy and the others spending time with her, so they attack Ponyboy and Johnny viciously. When this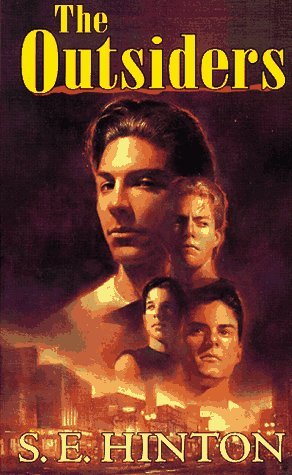 event becomes bigger than Ponyboy could have anticipated, everything spins out of control and nothing will ever be the same in S. E. Hinton's young adult classic The Outsiders.
If you didn't already know, Hinton wrote The Outsiders when she was fifteen. The book was published when she was eighteen. This is especially impressive when evaluating the book critically. Structurally and thematically, The Outsiders is a mature and nuanced look at things like cycles and privilege. The way Hinton ties the ending of the novel to the beginning may seem overused at first glance, but the grace with which she handles the transition is excellent. Even as the final pages started rolling by and I realized what Hinton was going to do structurally, I worried — but there was no need. Despite the trope she uses, it feels entirely fresh thanks to adept handling.
Meanwhile, themes of the novel are clear but not heavy-handed. Issues of privilege, albeit with minimal intersection (it's of its time and so on — there is a Native American slur used and the plights of the characters are, at the end of the day, mostly white-people problems), show up in various ways with nuance and great understanding without making the issues too complicated to grasp. All of this is underscored by Ponyboy's first-person narration, which is delivered in a well-defined voice. As it turns out, the social commentary Hinton lays down is timeless, too. As some supplementary material points out in the Speak edition I read, the terms "greasers" and "socs" may change over the years, but the fundamental concepts behind the groups and their conflict remain.
Part of Ponyboy's voice is his attention to detail. This sometimes means the plot seems to be moving slowly, but the reality is the plot is simply a more subtle one and not bogged down with side plots. The Outsiders is short, at 192 pages, but a delicious thing to digest with all of Ponyboy's observations. A few literary allusions, too, help to define Ponyboy as a character and add value to the book as a whole. Though I often find literary allusions to be on the cheap side, Hinton once again surprised me here.
I don't think I believe in perfect books, and there were a few moments of The Outsiders where dialog or phrasing was awkward. The single side plot of Sodapop and his relationship with a girl named Sandy certainly had symbolic significance, but I could have done without so much of it. But The Outsiders has stood strong for fifty years for a reason. It's a strong example of structure and theme woven well together without being an intimidating piece of capital-L Literature and I'm not surprised it's been used in schools for years.
❤❤❤💔 out of ❤❤❤❤❤