Six of Crows by Leigh Bardugo
Henry Holt and Co., 2015, 480 pages
Fantasy
Offered the opportunity of a lifetime, Kaz Brekker knows he has to pull together the best possible team to pull of the most ridiculous heist ever attempted. It's hard enough with antagonists after the team left and right, but with a team that can't get along with itself, the caper is even more difficult.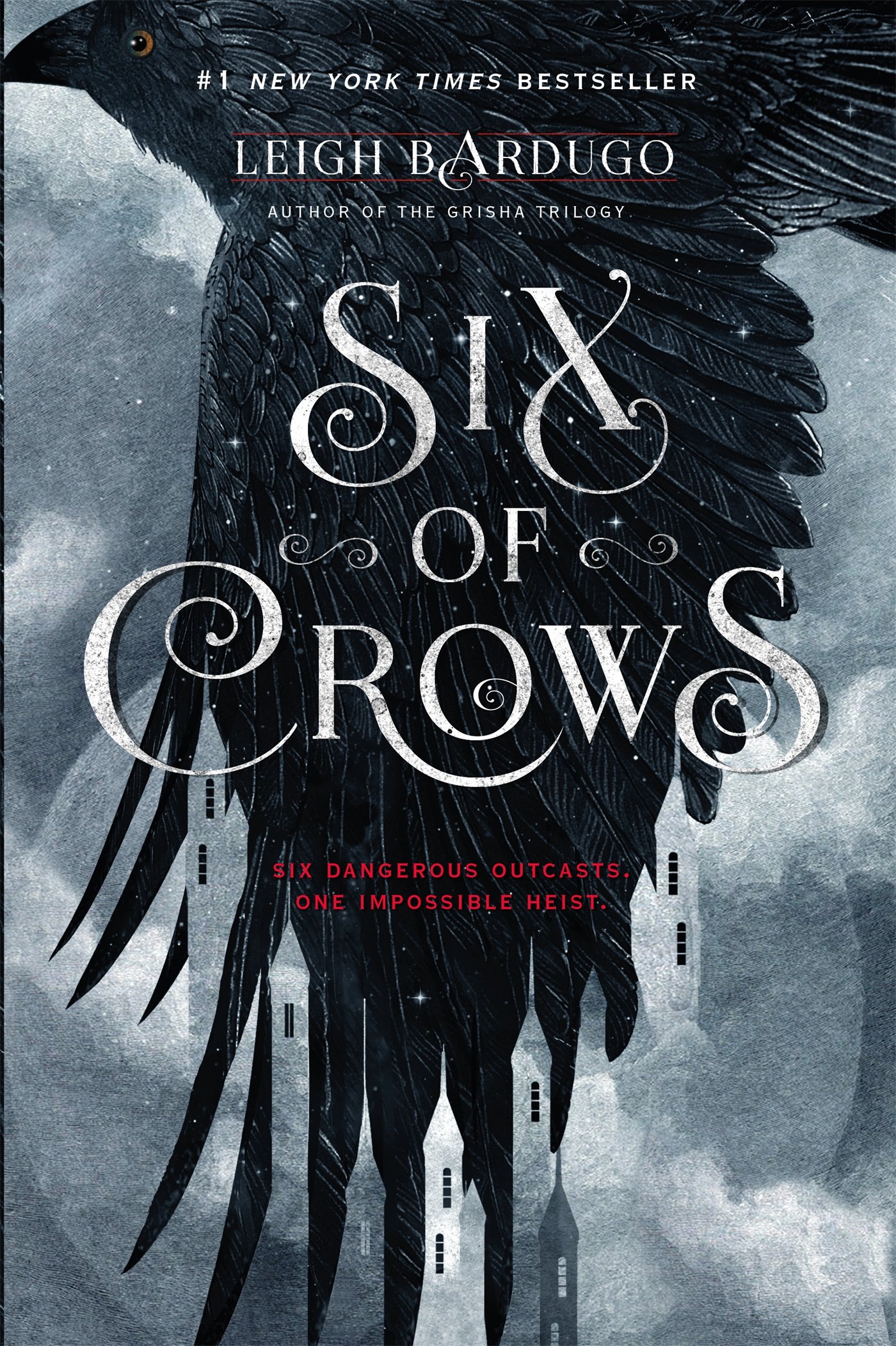 Relationships old and new appear in Leigh Bardugo's Six of Crows, set in a world familiar to readers of her other books.
Okay — let me be completely honest: I didn't really know what was going on for 90% of this book. It's a hefty object in hardcover, though I was surprised to find it was only 480 pages when I checked for the data above. It felt like at least 600. Six of Crows has an interesting premise and its fans love the characters and root for their favorite couples. I would, too, I think, if it weren't for the fact that it was like walking through molasses mixed with superglue to read. Six of Crows is especially slow at the beginning as Bardugo introduces readers to her main characters and their motivations. When the group finally gets together, they are rarely all present on the same page, making it difficult to see how they really operate as a team.
The plot is burdened not only by its slow pace, but by its seeming lack of stakes. Though Kaz and his crew are clearly motivated to receive their rewards for the heist (which I'm still not clear on the details for), the stakes never felt particularly high or driving. This lack of drive might come from the lack of clarity I struggled with so much, but regardless, it had a serious impact on how interesting I found the book.
Adding to the slow pace of the plot is a narration style that is overly stylized. While this might have been appropriate for a shorter work, Six of Crows is already weighed down with a slow plot and a whole lot of world building (not to mention characters who are guarded — I'll get to that). Although the prose might help suggest the sort-of-steampunk setting, it doesn't do so enough to warrant how severely entrenched the style is.
Bardugo does produce an interesting round of characters, to some degree. Nina and Matthias, in particular, are both characters who often behave in unexpected ways and play off each other nicely. This is heightened by a fascinating backstory (which is perhaps part of her other series? I'm not familiar and can't say.) that is touched on here and there throughout Six of Crows. The pair have a realistic and smoldering sort of chemistry, which left me skimming through pages just to reach scenes that featured them together. Meanwhile, Kaz, for all his Tumblr fans, seems awfully simplistic in his jaded ways and, beyond Kaz, Inej, Matthias, and Nina, none of the other characters are terribly memorable (including the two other main characters, Wylan and Jesper, both of whose names I forgot multiple times while reading).
Despite the decided cliffhanger at the end of the novel, Six of Crows didn't compel me to run out for the next in the series, Crooked Kingdom. While I'd consider returning for the sequel, it's not at the top of my list and it has some serious redeeming to do for Six of Crows in my book.
I read this book as part of Book Riot's 2017 Read Harder Challenge, fulfilling challenge #12, "Read a fantasy novel," and I leave it behind with two-and-a-half hearts.
❤❤💔 out of ❤❤❤❤❤