Labyrinth Lost by Zoraida Córdova
Sourcebooks Fire, 2016, 336 pages
YA Fantasy
When her powers finally arrive in Zoraida Córdova's Labyrinth Lost, Alex couldn't be more upset. It seems magic has only caused her family trouble since her aunt's death and her father's disappearance. After a boy, Nova, tells her there might be a way to reject her new bruja magic, Alex is on board. All she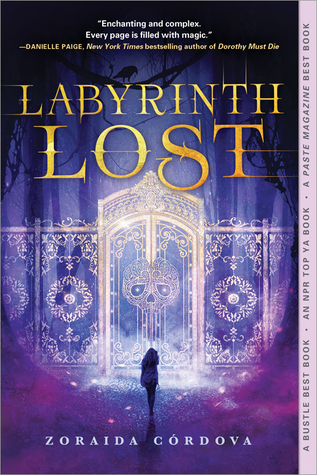 has to do is refuse her family's blessing during her Deathday celebration. But as it turns out, there are consequences bigger than she's willing to pay to live a life without magic, and it sends her on a journey in another realm where she'll be tested at every turn.
Labyrinth Lost starts off strong.  Córdova's weaving of magic into the real-life setting of Brooklyn, NY is a spectacular thing to behold. Though the bruja and brujo community may be small, its family-like structure is reminiscent of ethnic communities around the country with a strong root in tradition. This world-building brings readers right into Alex's life and allows them to buy right into her story despite the fantastical elements. Once Alex and Nova cross into another realm, Córdova seems to stagger somewhat. Each layer of the new universe represents new challenges for Alex and Nova, much like the seven circles of hell. But each new location is underdeveloped and never comes well together as a whole, leaving the new world feeling un-built. Chapters following Alex and Nova's descent into the magical realm frequently feel more like getting through a list of locations rather than experiencing a connected narrative.
Córdova begins strong with an explanation of the magical universe she's created, too, but this soon falters when the magical realm becomes Alex's new reality. Rituals and other features of Alex's magic are dropped away once she leaves Earth, leaving readers wondering about the particulars of bruja magic and, by some extension, Alex, her family, and her culture. Labyrinth Lost is missing out on layers again and again: in world building, plot, relationships, and characters. Each of these somewhat flat, it's difficult to invest in Alex and her story even when the stakes of losing her family permanently are so high.
Sections of prose in Labyrinth Lost are great examples of solid, atmospheric writing. Often, Córdova writes with vivid and visceral language that helps to describe the scene, even if the events of a moment are foggy — which they often are. Other times, the writing is clunky and doesn't suit the larger, more general feel of the novel.
Labyrinth Lost feels paradoxical a lot of the time. Though Córdova begins with a great deal of confidence, by the end the novel she is more shaken — not just due to the hazy events that never felt especially clear, but also due to inconsistent writing and a lack of support for the big ideas of the book. Though Alex is one-of-a-kind as far as I'm concerned when it comes to young adult heroines, there were pieces of her that felt essentially missing. A reveal regarding her good friend, for example, seemed to come out of nowhere and jolt the book in a way that didn't serve it well. This information felt far more throwaway than it deserved to be, and left me with more questions than I had answers. With all the Labyrinth Lost hype, I'm not sure I was as impressed as I expected to be. It's an important piece in terms of diversity for young adult fantasy literature, but left lots to be desired.
❤❤❤ out of ❤❤❤❤❤