First & Then  by Emma Mills
Henry Holt and Co., 2015, 272 pages
YA Fiction
Obsessed with Jane Austen and dealing with the new presence of her cousin in her home, Devon of Emma Mills's First & Then doesn't want a whole lot to do with anyone. With her cousin Foster comes local superstar football player Ezra, and it doesn't look like he'll be out of her life anytime soon, no matter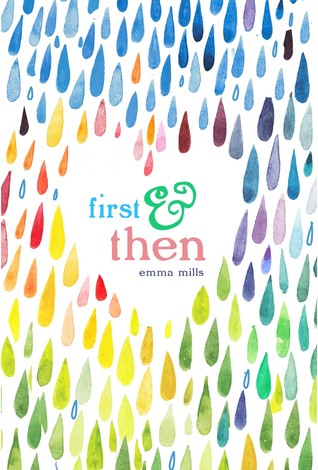 how much she may want him out. But Ezra perhaps does not have the perfect life everyone believes he does.
With a plot and structure that mimics Austen to some degree, First & Then follows Devon and her mild obsession around the famous author. Mills struggles to define Devon, however — for all of Devon saying she loves Austen, it's rarely demonstrated in action and the origins of her interest are never explained. It feels, instead, like a symbolic character trait: Devon loves Austen, so her story — at least in this novel — will be one about love and commentary on societal contentions. You know, like an Austen novel.
Despite Devon being somewhat bare bones in the personality department, her love interest is rather interesting. Genuinely mature (as opposed to the fake mature that you often see in YA literature — Edward in Twilight comes to mind first: seemingly mature and experienced, but really just brooding and quite emotionally immature when it comes down to it), the character provides a refreshing example. Though a revealing detail (see more on that at the end of the review, if you don't mind major spoilers)* ends up being half-baked and underdeveloped, the character overall is fascinating as an individual.
Other folks in Devon's life make the novel a touch crowded. Too many characters come in and out, which is a mark of real life, but ultimately makes First & Then harder to follow, canceling out any of the realism this aspect provides. Meanwhile, Mills's plot is a bit slow and subtle, which adds to the vague lack of readability. Furthermore, if you're not a fan of football and know nothing about it, several football-heavy scenes will again make this book a bit more of a chore than you might expect.
Finally, Devon's tendency to call other girls at her school "prostitots," or "PTs" for short, is a frustrating one. She never grows out of this, which I found disconcerting for a number of reasons. While main characters need not be perfect by any stretch, there seemed no real reason for this inclusion, except perhaps some dislike of girls typically deemed as pretty, popular, and perhaps promiscuous (alliteration unintended) by the author in her high school years.
First & Then is not something I'd go out of my way to read. It needed a bit more polishing and a stronger structure to hold my attention. While the prose style was sufficient, the overall concept was in places too subtle or otherwise underdeveloped to be gripping.
*SPOILERS BELOW*
Ultimately, the love interest holds a secret to avoid attention he doesn't want. This "secret" is that his younger brother died in a car crash. This felt terribly gimmicky and, from someone who lost a brother to fatal injuries in a car crash, I was mildly insulted. The love interest never even gives his brother a name, suggesting that the crash only matters in so much as it is connected to the love interest and his life, as opposed to just being an important event on its own. Though everyone grieves differently, I found this portrayal strange, off-putting, and generally tone deaf to what it's actually like.
❤❤❤ out of ❤❤❤❤❤