Born Wicked by Jessica Spotswood
Speak, 2012, 352 pages
Young Adult Fantasy
Full disclosure: I work with Jessica Spotswood. I wasn't coerced into reading her work; it was something that would have interested me anyway. My thoughts here are my own and have no bearing on Jessica as a person, who is lovely. Onward!
Having assumed responsibility for her sisters following the death of her mother in the face of a father who doesn't know his daughters are witches, Cate Cahill has more to worry about than just being found out for her magic. In Born Wicked by Jessica Spotswood, a group known as the Brotherhood has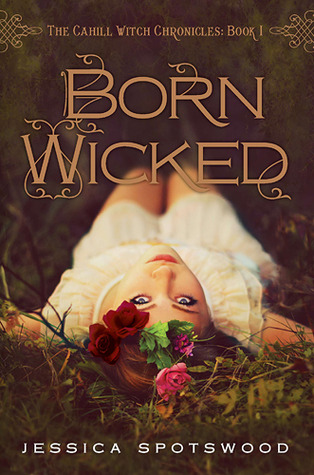 striven to drive witchcraft out of society. Cate and her sisters live in a world that is an alternate history of our own, but with careful world-building and plenty of borrowing from the real-life Salem Witch Trials of the Seventeenth Century, Spotswood achieves a story that feels realistic despite its fantasy and will be a fun read for those who love teen romance stories.
With a specific kind of world-building to achieve and loads of exposition to provide, Born Wicked does feel slow at parts. Cate is reluctant to allow a governess into their home in the absence of their father and, while this conflict is one of the central conflicts of the story, its arrival in the narrative is a late one. Meanwhile, the threat of the Brotherhood, while certainly real, does not feel terribly heightened. The reality is the Cahill sisters have managed their threat for the duration of their lives, including three years without the protection and guidance of their mother — why is this threat suddenly so much greater? The Brotherhood does scrutinize Cate a little more carefully now that she is nearing their prescribed age of marriage and the uncertain presence of the governess makes the sisters uneasy, but neither of these things seem to quite warrant the panic Cate seems to feel around being found out.
Naturally, with a prescribed age of marriage comes potential suitors. Somewhat predictably, Cate finds herself at the center of a love triangle involving an old friend and a young man Cate's acquainted with but doesn't know well until he begins working on her land at the direction of Cate's father. Despite the predictability of the existence of the love triangle itself, Spotswood executes it in such a way so as to make it feel somewhat new. The dynamics of the characters work in a way that freshens the trope in some aspects and does cast doubt as to with whom Cate will end up.
Character dynamics are something Spotswood does well in a variety of places. Known for her stories of sisters, Spotswood doesn't make an exception here. For all its romantic love, witchcraft, and ostracism, Born Wicked is primarily a story about sisterhood. Each sister is uniquely developed and has her own interests. While Cate is the focus of the story, her sisters play interesting and important roles nonetheless and Cate is well aware of it. Other characters, too, have their own personalities and motivations with well-developed and defined characteristics.
Cate's narration style does provide some roadblocks. Employing a vocabulary and sentence structure that attempts to indicate an antiquated world with various inflections and exclamations, the prose often feels put-on. Taking on this kind of stylized speech is a challenge, no doubt, and it didn't always work in Born Wicked. A book written in speech more typical of modern times, however, might have more easily confused readers, so there might not be a "right" answer here.
Born Wicked is a fun read, if slow in parts, for readers who are looking for witchcraft without a dark or spooky element. It's a novel of pastels and lace from the start, so if you're looking for something a little more lighthearted, if in some ways heavily political (and politically relevant), this is a good place to start.
❤❤❤ out of ❤❤❤❤❤